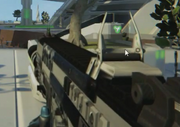 The Vector is an assault rifle that will appear in Starnet Eclipse[1].
The Vector is an fully-automatic assault rifle. As it appears in the pre-alpha footage of Starnet Eclipse, it comes equipped with a red dot sight. It's overall design replicates the sleek design, that of the real-life KRISS Vector, with a blue, black, and gray color scheme with a futuristic design.
References
Edit
Ad blocker interference detected!
Wikia is a free-to-use site that makes money from advertising. We have a modified experience for viewers using ad blockers

Wikia is not accessible if you've made further modifications. Remove the custom ad blocker rule(s) and the page will load as expected.