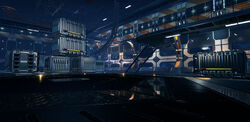 Spaceport[1] is a multiplayer map that will appear in Starnet Eclipse. The map will be one of the two maps, alongside Eden, available for the alpha release of the game.
Spaceport, as the name suggests, is speculated to take place on a large port ship used for spatial uses. It will contain a control room to large facilities full of storage. The map appears to be near land, suggesting that it may be landed and not in effect.
References
Edit
Ad blocker interference detected!
Wikia is a free-to-use site that makes money from advertising. We have a modified experience for viewers using ad blockers

Wikia is not accessible if you've made further modifications. Remove the custom ad blocker rule(s) and the page will load as expected.